Covd-19 Outbreak Clean Up services
The Covid-19 Virus is still with us.  If it comes to your home or office, the next step is to clean up to remove infection.  What can you and we do to prevent and clean up after it?
You may be a shop or office, a private home or Air B&B.  For sites up to 500smq we are offering complete, expert Covid-
19 removal and disinfection so that you can go safely about your business.
We offer the completion of single instance cleaning at any site, property, building or area which has been deemed a location of close contact with a person or person who have contracted Covid-19 and remained in said area for longer than 4 hours.
Staff we shall supply for the cleanup of sites will be registered with the Department of Health online Training and completed Modules Covid Infection Control for Covid 19 and Module Outbreak Management. Staff are all double vaccinated and proofs uploaded. Staff have further been comprehensively trained in correct PPE use, order of donning and doffing PPE, safe removal and disposal of PPE and soiled equipment and cleaning resources. Staff are also trained using the Safe Work Australia Cleaning guidelines and have the specific surface clean guide on their person or device. Training Outcome Proofs are available.
Staff will follow a comprehensive risk assessment a minimum of 60 minutes after infected persons have left the premises. At this point we will, in consultation with all parties involved, agree what will and what will not be cleaned. The cleaning process will be a 2 step process.
Step 1
All surfaces to 2m will be cleaned using hot water and detergents.
This will include walls, doors, window glass and sills, skirtings, appliances, benches, cabinets fronts and drawers, inside all cabinets. All loose items and knick knacks will need to be cleaned. All tables, chairs, desks, tvs, computers, shelves, laundry appliances, vacuum cleaners etc. All paper items that as are likely infected should be destroyed. All leather lounges will be wiped down. Outdoor areas such as Patios will be treated same. All floors will then be fully vacuumed and mopped using relevant detergent. See Note below for Fabric Upholstery.
Step 2
We then treat all cleaned hard surfaces with a PH Neutral Dis-infectanct Hospital Grade MEDIC VIRANSAN OR G10 and seal the area for at least 20 min dwell time. Excess residues will be wiped off with paper towel.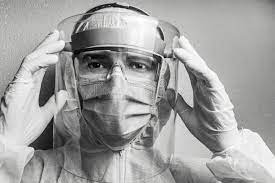 Staff will then remove all now soiled equipment used in the process to a nearby location and using a clean set of PPE clean all equipment and bag up for disposal all PPE not for further use such as ladders, cleaning bottles, vacuum cleaners. All soiled items can be safely disposed of in the normal rubbish collection at site.
FABRIC UPHOLSTERY REQUIREMENTS – All linens, mattresses, loungers, chairs, carpets and rugs may require hot water or steam cleaning. This should be arranged by a separate and reputable operator and completed concurrent with the Covid Outbreak Clean.
Curtains should be removed, washed in hot water, and rehung. This should be done on-site wherever possible to avoid contamination of further sites. We are able to offer this service on-site only.
Please Note our Terms
We are unable to provide fixed price quotes for this type of work due to the nature of cross-infection. You should allow for a similar cost to that of a full spring clean or bond clean of the site as prices will be similar. This rate reflects the cost of PPE, training and increased rates for staff to undertake the risk of this work. All staff have completed extensive training in their own time and are compensated at $40 per hour.
Minimum visit time is 2 persons for 2 hours. Time is charged at $99 per hour, and all time logged using Geofence software. All time to set up the clean, make fresh detergent and don and doff PPE is included in the time invoiced.
Weekend rates incur 50% to 75% loading. We have up to 6 staff on-hand to clean for up to 6hrs per day.
Once you have accepted our terms by return email we will then contact you to discuss protocols for your required date of clean. Upon full payment you will be provided with a Warranty of Service that the premises are now cleaned compliant with all Department of Health guidelines with minimal risk to staff and site. Large sites will require a 50% deposit.
Please call 0432018558 to discuss this further or to make a booking.