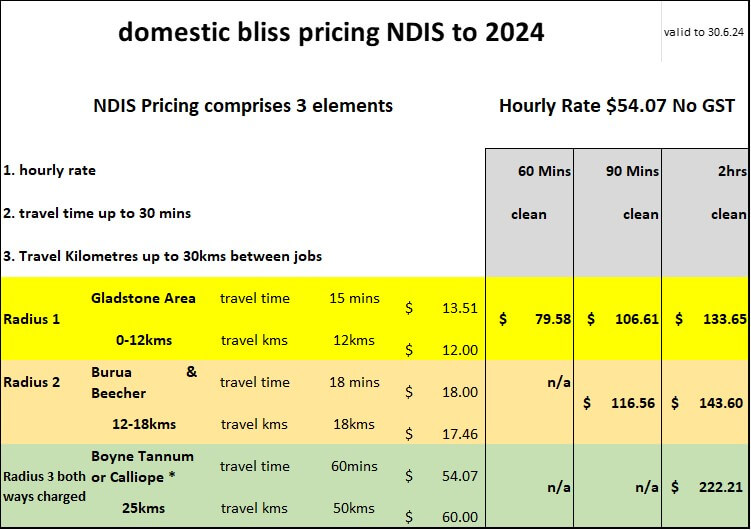 NDIS Participants Are welcome!
We offer regular scheduled cleaning for NDIS participants.   Daily, Bi-weekly, Weekly, Fortnightly or 4 weekly.  In fact any schedule you like.
Our staff are specialists in both Aged Care and NDIS cleaning.  They undergo extensive training both online and with a team leader Mentor before being send to a client.  We understand and communicate the complexities of some participants needs and seek to provide a holistic service. 
You will get to know your regular lady well and we try to provide the same consistent person each time.  We also now offer Transport and Lifestyle Options, Respite for Carers and Social Assistance.  Staff all have their First Aid Cert and Manual Handling
We can travel as far as Rockhampton and Miriam Vale if required
Pricing
Our hourly rate is between $70-160 per hour.  The NDIS pricing arrangement only allows for $54.07 per hour.   To combat this gap, we are able to charge travel time and kilometres for each visit (as this cost has to be paid to staff travelling between cleans)    Most staff will have 2-4 clients per day.
$54.07 per hour in labour/equipment  -NDIS Day Rate Cleaning and Household Tasks – 01_020_0120_1_1
$0.90c per minute in travel time from the CBD ( one way) - NDIS Provider travel time 01_020_0120_1_1
$1.00 per kilometres (one way) from the CBD - NDIS Provider Travel (non labour costs) 01_799_0120_1_1 Provider Travel Kilometres
This covers the gap.   Our chart below outlines what you should expect.  No GST is applicable for any NDIS work.  We understand and respect the NDIS framework and its participants.
An average 2hr clean once a week in New Auckland would be $108.14 plus $  13.50 in travel time and $12.00 in kms so a total of $133.64
That equates to $66 per hour, so similar to our current rates.
Click Here for a Home Cleaning Fact Sheet for details about what to expect.  Its pretty amazing what we do!
CI001 Client Home Cleaning Pricing Fact Sheet 2024
NDIS BOOKING & QUERY FORM
complete this form with the detail you know and we will be in touch to discuss your options